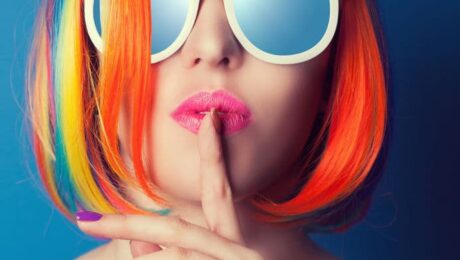 Looking for some summer hair inspiration? Look no further! We are breaking down the hottest summer looks. Hello, #summervibes!
Mermaid Hair Colors
This look relies heavily on having long, wavy hair (either naturally or styled) and your ability to complement your skin tone. A dark base starts at the roots with two or more colors infused towards the bottom half of your hair. Blending blues and greens is key to achieving this look. Straight dyeing the bottom half of your hair is not going to cut it, we're not going for a chunky look. The color needs to be intertwined and alternated, like getting highlights.
The beachy waves finalize the look by mixing in the colors even more. Throw in some purples and maroons to complement those blues. You can go bold with bright colors or for a softer look, pastel versions look awesome too. There are many shades of each color, so see which ones best fit your skin tone. The same rule applies for your dark base color at the roots. Our ColourFix³™ Leave-In Conditioner is ideal for restoring hair after processing and to keep colors vivid.
Unnaturally Natural
You must have heard the term 'Bronde' by now. It's a hybrid of brown and blonde. Toffee tones and warm hues of coffee are highlighted this summer – which is exactly what this is! The best thing about this trend is that your skin receives a natural glow and literally anyone can find a brown tone that complements them. Vary the colors and highlights in your hair so the style seems natural.
Blonde Bombshells
Blonde is back with a vengeance! Highly reflective golds and silver platinum are hot this summer. The trick is to maintain the highlights around your dark roots, so it seems intentional rather than a cover up. If you're not a natural blonde, the rooty-blonde style will help you go longer between salon visits. To enhance and maintain the brightness of your blondes and silvers, a blue pigment needs to be incorporated to offset the brassiness of the yellow hues. Toning blonde hair is super simple with our BlondeAmbition™ Luxury Brightening Shampoo. For natural and unnatural blondes, this shampoo is essential!
Rose Gold
Who doesn't love pink & gold? A subtle nod to the flashy colors of yesteryear, the new pink is softer and shinier. Honey-toned hair is overlaid with pinks to give us Rose Gold. Just like the precious metal, this shade will enhance the peach and yellow tones in your skin. Altogether feminine and soft, this look can be easily transferred into the Fall.
This summer is full of gorgeous color ideas! We always recommend seeing a professional stylist when color-treating your hair. Let your favorite stylist help you enhance skin tones with some of these summer looks. You can make any of these styles work. Be sure to tag us in your looks – @sudzzfxinc. Happy summer!